European Avalanche Danger Scale
see all news for the winter season 2018-2019
The public avalanche warning services in Europe (EAWS – European Avalanche Warning Services – www.avalanches.org ) have established to adopt for the new winter season a new standard that takes into account the typical avalanche problems and modify the terminology of avalanche sizes.
All that implies:
Changes to definitions of the European Avalanche Danger Scale
A corresponding adjustment of all avalanche forecasting and warning products
1. New standard: Typical avalanche problems
The "Typical avalanche problems" have become a new EAWS standard for snow and avalanche bulletins. The five "Typical avalanche problems" are:
| | |
| --- | --- |
| | New Snow |
| | Wind-drifted snow |
| | Persistent weak layer |
| | Wet snow |
| | Gliding snow |
The use of typical avalanche problems will result in improved efficiency of forecasting products and training activities for prevention;
The typical avalanche problems aim to describe the most common dangers that may occur on an avalanche terrain and provide support to professionals and sports-recreational users in their assessment of the avalanche danger;
The typical avalanche problems complement the avalanche danger rating and the dangerous locations (slope inclination, elevation range and aspect) in avalanche bulletins.
Further information on typical avalanche problems can be found here.
2. Modification of definitions of avalanche size
Avalanche size includes five size classes and have been modified in EAWS as follows:
Class 1 has been renamed "Sluff and small avalanche" (previously it was: "Sluff")
Class 2 has been renamed "Medium avalanche" (previously it was: "Small avalanche")
Class 3 has been renamed "Large avalanche" (previously it was: "Medium avalanche")
Class 4 has been renamed "Very large avalanche" (previously it was: "Large avalanche")
Class 5 has been renamed "Extreme avalanche" (precedentemente era: "Very large avalanche").
Further information on avalanche sizes can be found here.
These changes have been esablished to increase the efficiency of avalanche warning and forecasting tools and training activities.
To date, the largest number of casualties are recorded in ski-touring and off-piste skiing activities. Avalanches of size 2 and 3 are those resulting more frequently deadly for this category of users. In some languages, the adjectives "small" and "medium" are perceived as harmless and will not properly convey the danger degree. Such adjectives were therefore not intuitive for backcountry skiers who would classify avalanches using at least one larger size. Having changed the adjectives that define avalanche size, though keeping the dimensions already in use (volume and run-out distance), allows for better communication towards and within the class of users where the largest number of casualties has been observed. The avalanche danger degree descriptions remain substantially unchanged:
Avalanches of size 5 only occur rarely and have exceptional dimensions. The definition "Extreme avalanche" is thus more suitable for this class.
Changes have only been made to text when describing the "Likelihood of avalanche triggering" of the European Avalanche Danger Scale.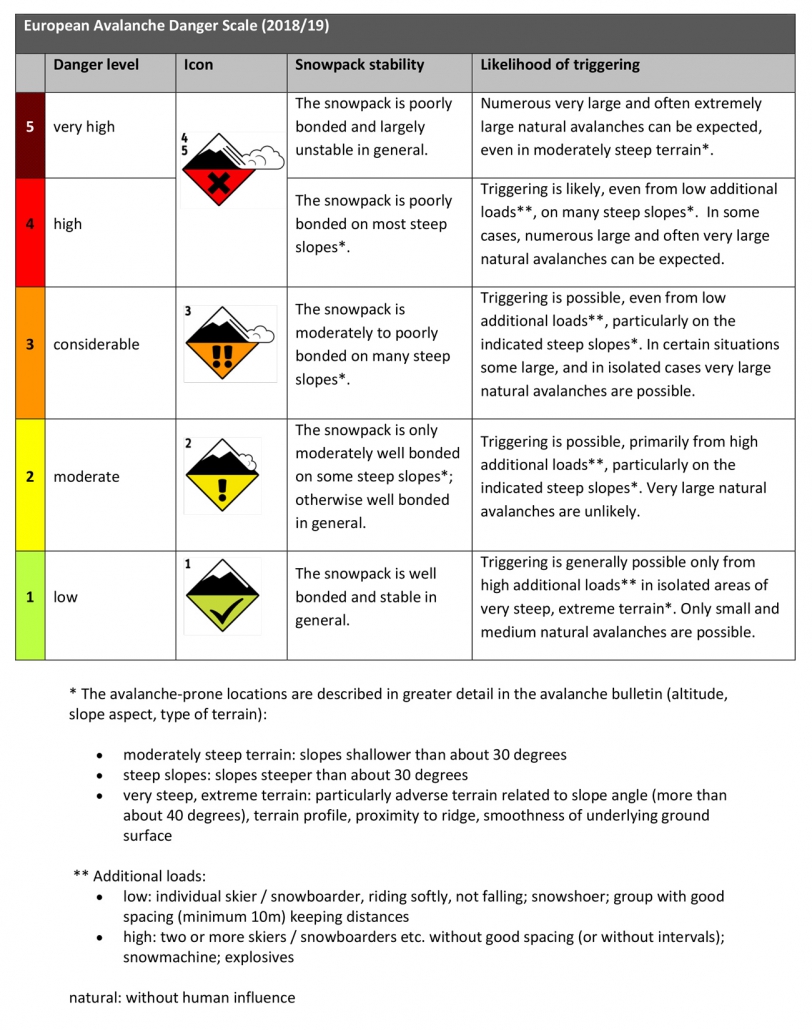 EAWS appeals to all the organizations and people involved in avalanche risk management – in the professional, sport-recreation or training area – to adopt the new standards starting from the winter season 2018-2019.
The new standards can be found on the www.avalanches.org website from autumn 2018.
For further information, please contact AINEVA and relevant regional/provincial offices in your area.
Changes are necessary to improve. These modifications and the new standards adopted are the result of combined work of a number of avalanche experts from EAWS and its members.
Using these new standards in all communications among mountain professionals and mountain practitioners will help the avalanche community reduce the number of casualties and avalanche damages.
EAWS communicated this information to ICAR, IMGA, UIAA e WMO.